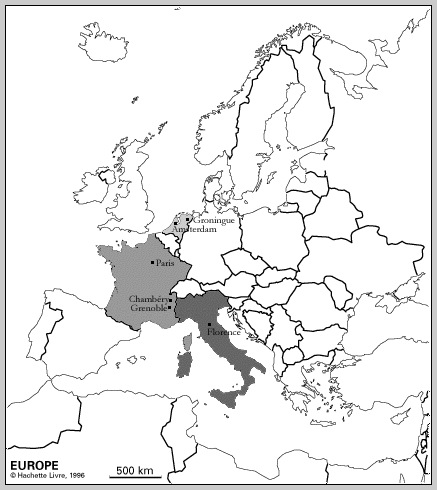 • From the Low Countries to the Alps
Born in North Holland, Andreas Nijenhuis enjoyed a European education, in the Netherlands, France, and Italy.
After a college degree, he undertakes history studies at the University of Groningen, where he passes his degree.
With an Erasmus grant, he obtains his
Maîtrise
in Grenoble, at the Pierre Mendès-France university. He pursues with a Master of Advanced Studies, in the field of the history of international interactions.
Admitted to the European University Institute, in Tuscany, he continues his research in Modern History, with a NUFFIC grant from the Dutch government.
Within the European international exchange program Socrates, he attends the EHESS in Paris.
Nijenhuis holds a PhD in Modern History from the Free University of Amsterdam (
see here
).
He is lecturer at the History and Geography departments of the University of Savoy.
*
* *

• Education and experience

Research project 'History and Archeology' of the Abbey of St-Agaune, St-Maurice, Switzerland
Research on the relation between the Abbey and it's protestant subjects
From 2011 to date

> Contribution to the historic book (edited by Bernard Andenmatten and Laurent Ripart) commemorating the 1500th anniversary of the foundation of the abbey.


Vrije Universiteit Amsterdam, Netherlands
PhD in Modern History
From 2007 to 2012

> Director: Willem Frijhoff.


Université de Savoie, France
Lecturer (Chargé de cours, ATER) in Modern History
From 2002 to date

> The Université de Savoie offers an education in tin Arts & Humanities, Social Sciences and Science.


Conseil d'Architecture, d'Urbanisme et de l'Environnement de l'Isère, Grenoble, France
Project manager
2003-2004

> Co-organisation of the exhibition « Vorarlberg, une provocation constructive » [CAUE Grenoble/IFA Paris/VAI Dornbirn], and a cycle of four international congresses on the theme of architecture and sustainable development.


Huizinga Instituut Amsterdam, Netherlands
Correspondant
From 1998 to date

> The Huizinga Institue hosts researchers in a broad disciplinary field.

École des Hautes Études en Sciences Sociales, Paris, France
SOCRATES exchange
1998-1999

> The E.H.E.S.S. is a 'grande école'. Research on the relations between the Arts and the Political Power, with Roger Chartier.


European University Institute, Florence, Italy
Researcher in Modern History (NUFFIC grant)
From 1997 to 2004

> The EUI in Tuscany hosts European researchers. NUFFIC grant from the Dutch government.
Research and publications on the French-Dutch relation in the 17th Century.


Rijksuniversiteit Groningen, Netherlands
Co-responsible for the pedagogical content of the HOLOGRAM educational software program created by the RuG.
From 1996 to 1997


Université Grenoble II Pierre Mendès-France, Grenoble, France
Licence
Maîtrise in Modern History
Master of Advanced Studies in the History of international relations and interactions (ERASMUS exchange).
From 1993 to 1997

• Masters degree passed in the field of the political philosophy (La notion de liberté chez Machiavel. « Très Bien ».)

• Master of Advanced Studies ('Histoire des relations et interactions culturelles internationales' « Bien ».)


Rijksuniversiteit Groningen, Netherlands
Doctoraal in History
From 1991 to 1996

• Propædeuse in the Arts & Humanities (1992)

• Doctoraal (1996, « Cum Laude ».)


*
* *

• Degrees

PhD in Modern History
Vrije Universiteit Amsterdam, Netherlands
Defence in October 2012 (Thesis submitted)

Master of Advanced Studies 'Histoire des relations et interactions culturelles internationales'
Université de Grenoble II Pierre Mendès-France, France
« Bien »
1997

Doctoraal Modern History
Rijksuniversiteit Groningen, Netherlands
« Cum Laude »
1996

Maîtrise Modern History
Université de Grenoble II Pierre Mendès-France, France
« Très Bien »
1995

Certificate
Christelijk Avondcollege Groningen, Netherlands
First rank
1991